Download the Solution Brief:
Hilton Hotel Public Safety DAS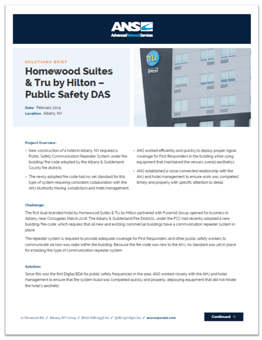 Fill out the form to the right to receive a PDF version of our solution brief.
About This Project:
New construction of a hotel in Albany, NY required a Public Safety Communication Repeater System under the building/fire code adopted by the Albany & Guilderland County fire districts.
The newly adopted fire code had no set standard for this type of system requiring consistent collaboration with the AHJ (Authority Having Jurisdiction) and hotel management
ANS worked efficiently and quickly to deploy proper signal coverage for First Responders in the building while using equipment that maintained the venue's overall aesthetics.